08/15/2021
PCB Designs and Developments for the Future of Surgical Robots
The medical market is one of many industries TTM Technologies ("TTM") is proud to serve. The range of printed circuit board ("PCB") applications in the medical field is significant, and ever-growing.  These factors have become critically important as technology advances over the years compelling TTM to step up our game and evolve.  Today, as more medical diagnostic, research and treatment methods have become computerized, PCB products for medical equipment have become a standard requirement throughout the industry. PCBs can be found in everything from pocket-sized pacemakers, defibrillators and heart monitors to large-scale medical imaging systems such as MRIs, CT scans and more.
At TTM, our specialized factories position TTM to support our customers addressing a broad spectrum of medical industry requirements with PCB products, substrates, specialty components, value-add assemblies and other highly engineered custom solutions. In addition to such a broad product-mix offering, TTM also offers our customers a range of manufacturing solutions from quick-turn sampling and NPI to high mix, low volume production and mass production high volume production.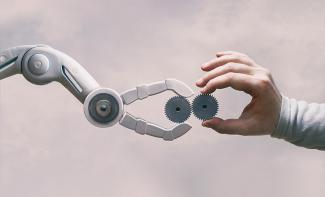 Challenges – The Right Kind of PCB, The Right Kind of Flexibility    
Recently our team was involved with yet another exciting project for one of our long-term customers, participating in the development of their latest generation of surgical robots. Representing this customer's most ambitious project to date, the objective and challenge for these robots was increased performance and patient satisfaction for less cost. TTM's role in this project was to develop and manufacture three different Class 3, high reliability rigid-flex boards to address the customer's exacting requirements for dynamic flexing within tight space constraints.  Product quality and high reliability is paramount since the end-use application is human surgical robotics.
The Advantage of TTM Technologies – The Importance of Trust 
For an industry that depends on stringent process control and product traceability, TTM is your  trusted and collaborative partner.  The trust our customer's place in us is equivalent to the trust doctors and patients place in these surgical robots. We offer confidence to our customers by providing them with a single source on PCBs accompanied with sound and practical technical support.  Our entire team – TTM OEM Sales, CM Sales, FAEs and site personal in Toronto and Stafford – is honored to work on this project and effect a postive change to the world.