Welcome to our Sterling Location
The Sterling facility, founded in 1975, focuses on quick-turn, military hybrid constructions, high-density interconnect ("HDI"), and high-performance materials.  
Current Opportunities
Sterling

Quality

Operations

IT

Quality

Quality

Engineering

Quality

Engineering

Operations

Facilities

Administrative

Quality

Engineering

Engineering

Engineering
The team in Sterling focuses on providing high-quality, consistent customer service and products for military, defense, and space industries. Mission-critical applications rely on TTM STE to deliver high-reliability electronics solutions.
TTM Sterling employees have access to comprehensive benefits and competitive starting wages. From health and insurance to 401K matching and tuition reimbursement programs, we have you covered.
TTM has a number of in-house training opportunities from our Learning & Development team, tuition reimbursement, student loan repayment, and other programs to encourage our teams to stay on top of their career development goals and reach their potential with us.
General Manager, Peggy LeGrand
Get involved! Donating PPE (2020)
TTM STE provides innovative technology solutions.
We offer a number of professional development programs.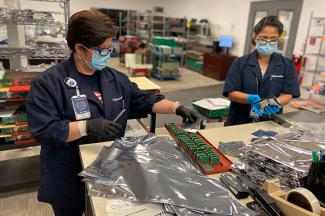 Just Outside of Our Nation's Capitol
Located outside of Washington D.C., Sterling, Virginia is rich in American culture and history. Spend the day touring the Smithsonian or visit the John F. Kennedy Center for the Performing Arts. 
There are countless monuments and memorial sites nearby including the Lincoln Memorial and Arlington National Cemetery. Sports fans will find plenty of teams to cheer for including the Washington Nationals, the Washington Football Team, the Washington Capitols, the Washington Mystics, and D.C. United.
If you like history, there are countless historic sites and landmarks throughout the state including Jamestown, Mt. Vernon, and several battlefields. The Washington D.C.-area has much to offer.
Discover More about TTM
Discover More about TTM